It's a new year, and that calls for a change.  I'm sure like me, there are a bunch of you out there that have taken a look around your homes and have decided that it is time for a new look.  There are multiple options out there including painting and purchasing new furniture, but why not create that fresh new look with some pattern?  I know it can seem overwhelming when trying to pair a bunch of different patterns and textures together, but I have three very simple rules that will help you to become an expert when picking out and matching patterns in your space.
RULE #1: DON'T BE AFRAID:
My philosophy is be bold, and try combinations that are unexpected.  It's okay to step (or even jump) outside of the box and be different.  The great thing about fabrics, accessories and artwork is that like paint, you can change them out.  So don't worry if you realize that leopard skin print area rug isn't quite as timeless as you thought it was.
RULE #2: THE COMBINATION:
This is where things get really easy.  Fabrics are a great way of adding color and a change to your space.  Adding a great accent pillow or some bright window treatments is an instant facelift for your space.  I know that for me, I am like a kid in a candy store whenever I step into a fabric store, but for many it is a panic attack waiting to happen.  Let me ease your mind with some perfect advice that I learned while in Design School.
I was a freshman in college with great hopes of being the next Florence Knoll (a wonderful Textile Designer), but really had no clue what I was doing.  Thanks to my professor, Dr. Holly Cline, I learned the following recipe for combining different fabrics:
First, find a fabric with a large pattern.  This could be floral, damask, or a geometric pattern.  You want to find one that has some good color in it.  Second, you need a fabric that is a solid color.  This one is typically the main color you want to use in your space, and helps to ground the other fabrics.  Third, is your fabric that has a small dot pattern or a stripe.  The last key factor for this recipe is to make sure that all of your fabrics keep a consistant color scheme.  Putting all of these together will allow you to mix and match designs and patterns that you would never think would look good together.  To give you a visual, check out this example below using some great fabrics from Robert Allen Design.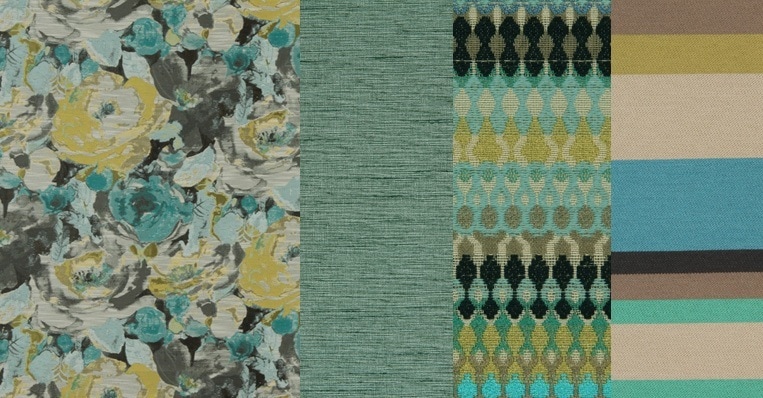 RULE #3: TAKE CUES:
One of my favorite places to turn for inspiration is fashion.  I am a firm believer that the Fashion and Interior Design worlds go hand and hand.  If you look back at the history of Interiors and Fashion, you can find parallels to how interiors were shaped by the styles of women's and men's clothing and vise versa.  This is still very true today.  Go to any retail or fashion website, and you can find great inspiration for combinations of colors, textures and patterns.  Still Keeping Rules #1 and 2 in mind, let's put an outfit together.
First, you probably go for your pants, or your solid.  This is your neutral that goes with everything.  This could be a larger piece in your space like your sofa or a club chair.  This gives you a good base for both your outfit and your room.
Next, you go for your shirt.  Now, this is where we  follow Rule #1, and get a little fearless.  Go for that large pattern or or stripe.  It can have a bunch of colors and can be bold and bright, but still works with your solid neutral.  So here we have our accent pillows, smaller furniture pieces, or window coverings.
Now let's add the jewelry.  This is really where your outfit and your room come togther.  Don't be afraid to mix and match your one of a kind area rug, accent tile, lamp or even artwork that really makes a statment.  Sometimes those statement necklaces, or accessory items can really show your personality and bring a great warmth to the space.  It's what really brings personality to your home and what makes it different from everyone else's space.
A great place to find that inspiration in fashion is from your favorite clothing store.  One of mine is LOFT.  They always have great patterns and colors, and they even have a "Style Closet" that shows you how to mix and match their patterns for each season which gives us a ton of inspiration for our homes: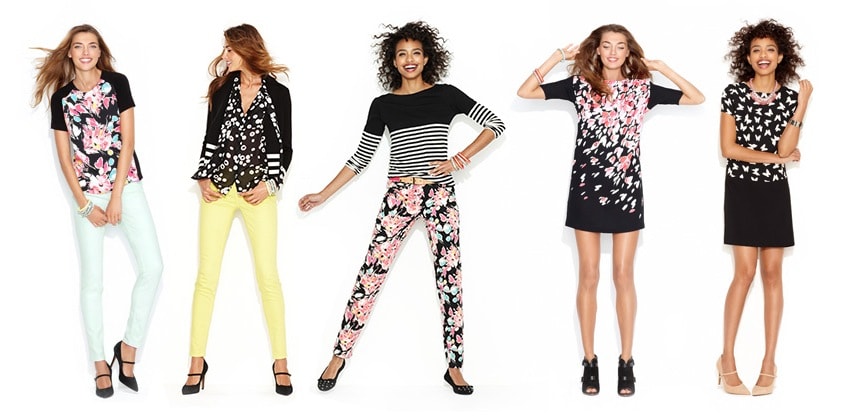 Now that you've gotten over your fears, memorized that combination, and have found some inspiration, you are ready to add some sparkle to your home in a new way.  And don't worry, if you get confused, you could always follow a great rule that I learned from my dear friend Ashley Fernheimer.  Every room always looks good with a punch of red.
If you would like some help with creating that new look for your home, please contact us at our website www.vrainteriors.com, or check out our Facebook, Pinterest and Linked-in.
Posted by Amy B.