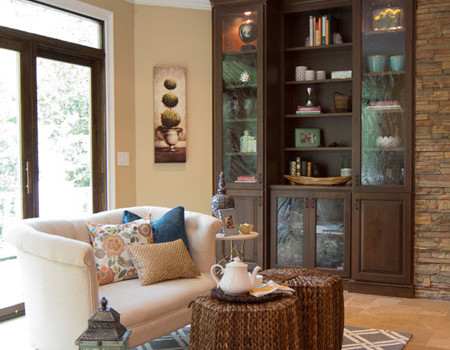 In the world of household furniture, bookcases have a fairly basic and simple function: to display and/or store your items. Traditionally, those items would be books, hence the name bookcase. But organizing and arranging bookshelves to be both functional and attractive can be deceptively tricky. As interior designers in Atlanta we are often asked for simple tips and tricks for easily arranging items on bookcase shelves. Our top design tricks include the following:
Resist the urge to keep adding more. A balanced look is more easily achieved when utilizing the negative space without packing every shelf with accessories and books alike. Give your items room to breathe. 

Alternate stacking books vertically and horizontally to achieve a more interesting look. A stack of books also works nicely as a pedestal for smaller items while bulkier picture frames or statuettes or accessories make for great bookends.
Stick to your style. Modern, streamlined rooms call for modern streamlined shelves and accessories. Leave lots of space using few items. Traditional styles can include more items and pictures but avoid cluttering it up.
Bigger bookcases with multiple shelves look better with symmetry. Mimic the look of one shelf, with the same shapes and colors, at the shelf at the same level on the opposite side.
Make sure that your room theme and color scheme are carried through to the bookcase. Accessories or storage boxes can match wall color or textiles in the rest of the room.
These tips are just some of the elements of interior design that we specialize in here at VRA Interiors. With comprehensive and creative interior design services in Atlanta, we assist our valued clients with interior design projects, both large and small, that show individual personality, taste and history.