I love house hunting.  That may be nerdy, but I do…I love it.  Many a weekend has been spent with friends, visiting model homes and open houses, and sneaking into homes through the garage that are being built (I know you've done it too!).  I think my favorite part of house hunting is when you're talking to the realtor and they ask you what you do for a living.  I always smile, and of course say, "I'm an Interior Designer".  9 times out of 10 the following responses are either, "Well what do you think of the decor?  The builder's wife did the design" or, "So, what do you think of the layout and decor?  Would you change anything?"  Of course the answer is always no, and that the builder's wife has done a lovely job with the space, but leeeet's be real folks.  Whether you're buying a brand new home, or you've decided on that cute 1960's ranch with a 2 car garage and unfinished basement that will someday be your mancave, there are always obstacles to homeownership.  In general, the main issues that I've seen (and heard from friends and family) are:
1. Not enough closet space
2. Kitchens and Bathrooms are outdated
3. 5 different colors of carpet
4. Small Rooms
Reem has previously discussed some great ways to add storage into your home in an earlier post "So Much Stuff, So Little Space!", so we won't be looking at the struggles with hoarding.  Click on the link and check it out.  There are a bunch of great ways you can incorporate some extra storage into your home.
And while, having 5 different colors of jewel tone carpet in each room is a problem, this time we're going to focus on some easy ways that you can update your kitchen without having to completedly tear it down and start over from the studs.  We will look at three different ways you can make a huge impact on your space, and we have some great images as examples.
First, let's take a look at the backsplash.  As you all know by now (if you've been following us each week), I am a HUGE fan of color and pattern.  If you are just joining us, I am a huge fan of color and pattern.  The backsplash in your kitchen is a perfect place to add both.  There are a bunch of ways that you can do this including tiles, slabs of solid surfaces such as marble, and even backpainted colored glass.  Take a look at these great examples below:
This yellow and white tile is a great way to brighten your space.  It adds a great pattern without being too overwhelming.  The great yellow color is a good contrast to the neutral counter surface and crisp white cabinets.  Make sure when you are using a patterned tile to consider the size of the wall where you will be applying it.  A larger wall works best with a larger pattern, where smaller spaces can work best with a smaller scale pattern or tile size.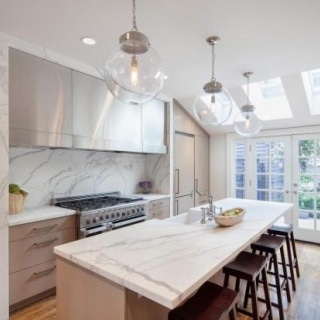 The white marble backsplash is both beautiful and a classic choice.  I like how this traditional material is paired with stainless steel upper cabinets, and clean line base cabinets and pulls.  It is a nice transitional look combining traditional and modern styles perfectly.
This tile backsplash is so fun and whimsical!  The use of different circle sizes is a great choice.  It pairs well with the honey cabinets and dark solid surface counter with stainless steel accents.  We've seen a lot of white kitchens lately, but this is a great use of natural colors to create a warm and inviting kitchen.  This would be a great space to have a cup of coffee in the morning.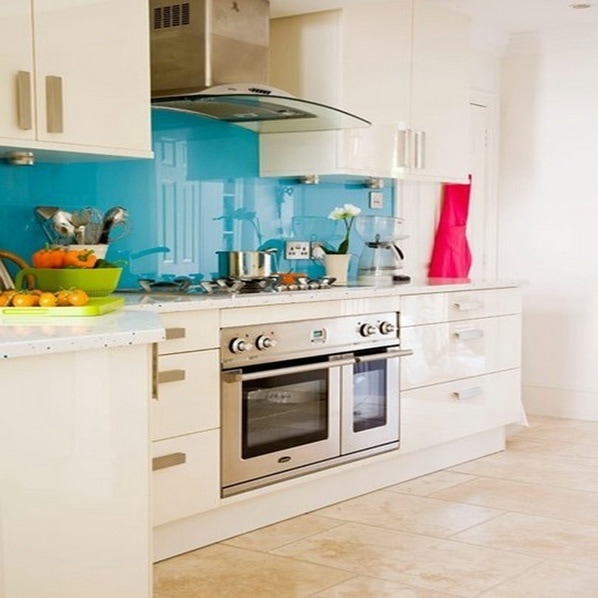 Not only is this blue backsplash a great pop of bright blue, but it uses a material that you do not see often.  This backpainted colored glass is a wonderful option to tile or solid stone surface.  It is easy to clean, and you can even leave messages for loved ones or write your recipes so that you don't have to keep worrying about having a cookbook or recipe card near your oven or cooking surface.
The second option for updating your kitchen is lighting.  There are ENDLESS options for adding some light into your space including pendant lighting and uplighting.  Don't be afraid to find some stand out pieces that show off your great style and taste just like these options below: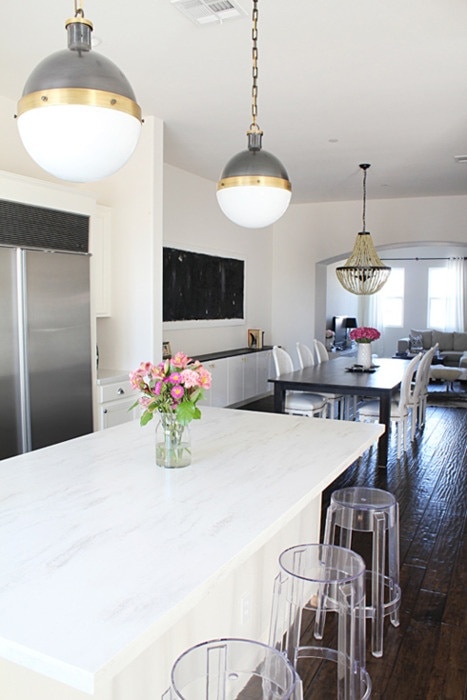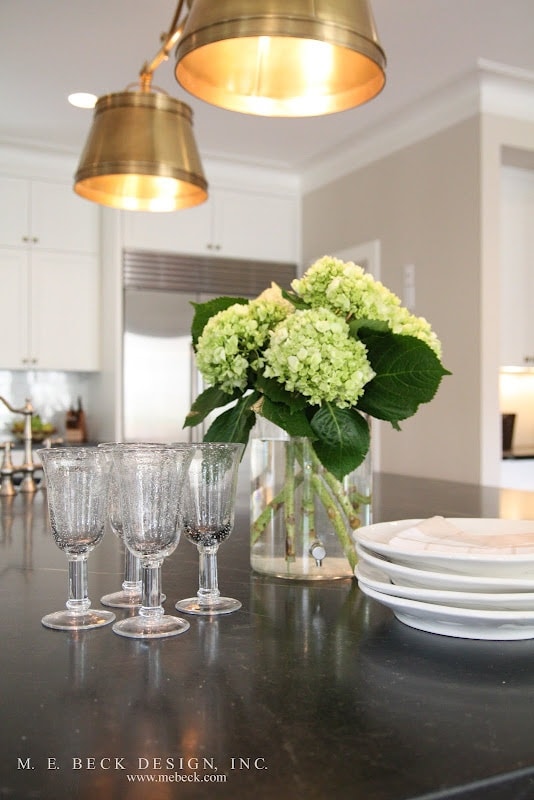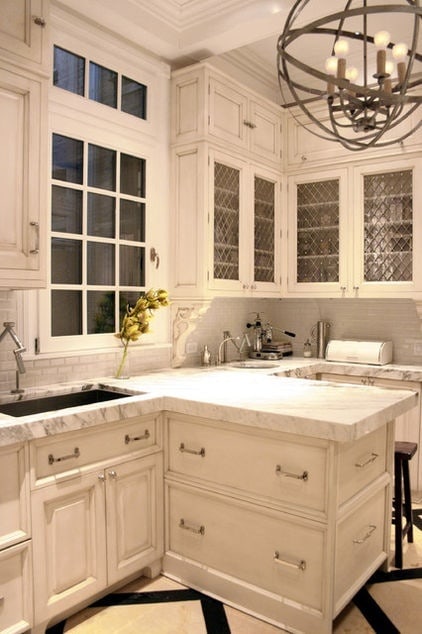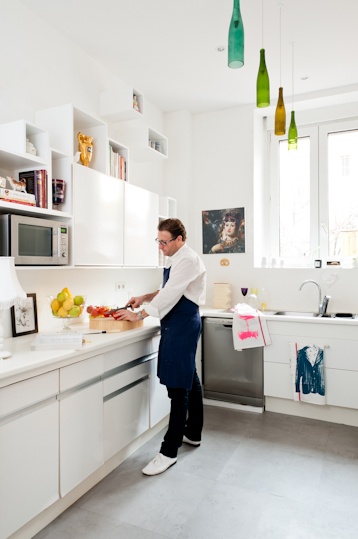 The last way that you can update your kitchen without busting your budget is by refinishing your cabinets and pulls.  Most kitchens, especially that 1960's ranch, have great solid wood cabinets that you would have to pay top dollar for today.  A great way to reuse those is to either refinish the natural wood stain, or paint them.  Add some fun pulls, and you have a brand new look with half the time and labor.  You can even create different colors for your wall cabinets and your island.  You can do bright colors, or white.  Once again, let's look at some ideas for colors and finishes: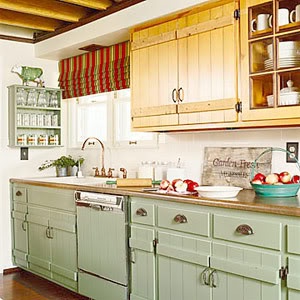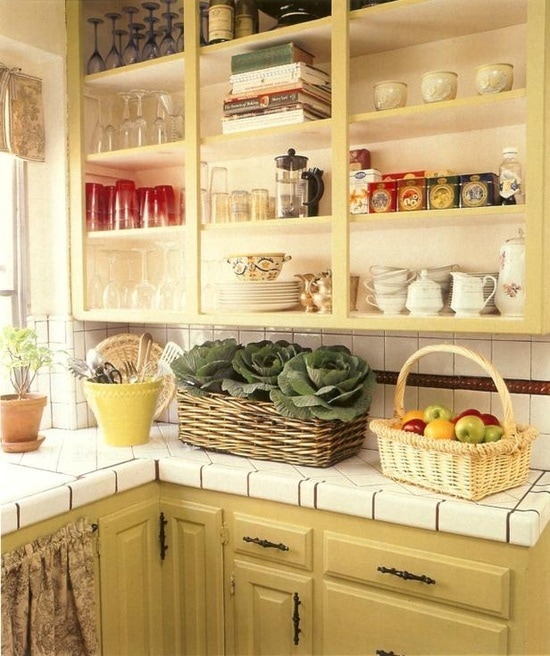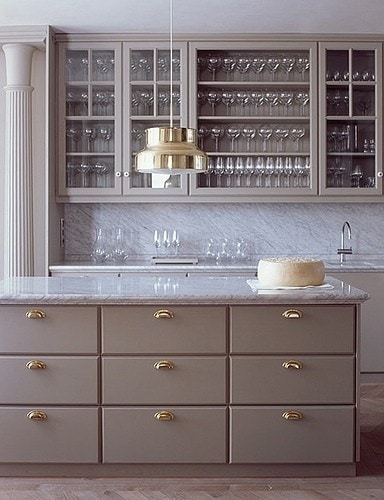 So whether you choose to add some color and pattern to your backsplash, brighten your space with some new lighting, or change up the colors of your cabinets, each of these options is a great way for your to completely transform the heart of your home without breaking the bank.  You can go from run-down and outdated to fresh, crisp and beautiful, and only you will really know the truth!  All of your friends will wonder which great designer you used to create your new kitchen. And when they ask you, be sure to tell them you used VRA Interiors!
If you need some inspiration or some ideas on how you can transform your kitchen from Shabby to Shabby Chic, visit our website and send us a message, or check out our Pinterest Page and create a board of your own great ideas.
Posted by Amy B.