So you are looking into your newly designed home, and moving from room to room, you wonder, "there's something missing…" You are checking off the list in your head: new furniture-check, new paint on the walls-check, new accessories-check, but you can't seem to figure it out. You feel that you have everything that you love put together from the window treatments down to the votive candle sitting on your end table, but need a final design element to help showcase everything.
Have you thought of lighting? Yes, you have chosen a table lamp here and a torchere there, but that is not what I mean by lighting. Many people confuse lighting as a tangible accessory that you just choose based on what the actual light fixture looks like. But have they really considered how that fixture illuminates the space? A lot of times, you will find the perfect fixture that is just "to die for", but if that fixture is not properly illuminating the space for its use, than the design has been compromised. Today, I am going to share with you some of my lighting secrets when designing a space.
First, I always ask myself the most important question: What is the room the fixture is going in and how is that space being used?  Lighting is primarily based on the tasks preformed in each space. For instance, a kitchen needs more direct diffuse light over the work areas, such as countertops and next to appliances. On the other hand, media rooms need more dimmable indirect lighting. Imagine using strong direct spotlights in a media room? That definitely would not accomplish the design intent of that space.  Rather, it is not uncommon to see cove lighting, wall sconces, and uplights that are easy to control and dimmable in that specific type of space.
Second, I always ask, is there something I need to focus on or showcase in the space? For example, the priceless oil painting on the wall or the beautiful floor to ceiling stone fireplace at the end of the room. Lighting is the best way to bring attention to something you want seen in your home. Using a proper light to do this will allow the viewer's eye to focus on that piece, telling them to come closer to admire.
Finally, I ask is there variety in types of lighting in that space?  I truly believe that a space that uses a variety of sources of lighting, if done properly, is the most unique and lively. Of course, I am not telling you to use every type of light imagined, but mixing up different lighting types can definitely make a space more appealing.  When doing this, I consider the first two questions I asked and apply the light as an art.  I always start with the general ambient light of the space (recessed cans, pendants), than move to indirect lights (table lamps, sconces, uplight pendants, cove lighting), and than finish with task lighting. This scenario allows for the most adjustability so lighting can change as the task or mood changes. Below are some great examples of what I believe are successful lighting design. Note that all of these examples use a variety of lighting types to illuminate the space.
Look at this media room below. Yes, the designer did use spotlights, but they used them as 1-an indirect light to illuminate the space and 2-as a spotlight to showcase the texture on the wall.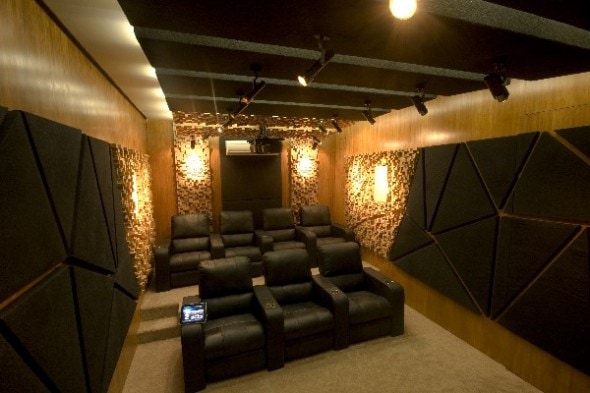 In the kitchen below, notice the diffuse direct light the recessed cans provide.  This is an even illumination that allows whoever working in the kitchen to see clearly while accomplishing the tasks in that space.  Under cabinet lighting and decorative pendants are also provided as well to allow for additional light when needed.
The dining area below has some accent lighting along the recessed back shelves. Did you notice how that shelf is the first element you noticed? Your eyes first see those bottles on the top shelf which is what the intent of the lights are. The fun hanging pendants and two wall sconces also bring in movement to the space.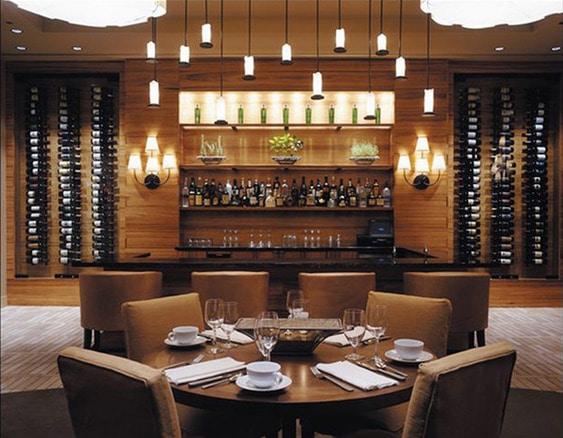 In the intimate sitting area below, the bookcases and walls are accented to bring your attention to the wall texture, books and fireplace.  Notice that all of the lights are indirect lights allowing for a more soft intimate sitting area. I would definitely enjoy relaxing on that sectional with one of those books.
Still having trouble with your lighting design, please give us a call or send us an email. We would be more than happy to look at your space and see how we can help you with updating your lighting. You can contact us via our website at https://www.vrainteriors.com, or you can find us on Facebook, Linked-in and Pinterest.
Posted by Reem T.