Like many homes throughout the country, I own a dog.  I am blessed with a 4-year-old, 10 lbs. Shit-Zu puppy who is constantly following me around, bringing me toys to play fetch, and begging at the dinner table.  The great thing about pets is that they are wonderful companions.  The not so great thing is their stuff.  They come with cages, beds, toys, food, grooming tools, etc.  Along with all that stuff comes storing all of this in your home.  One doesn't typically see cats and dogs and their accessories in your national Architecture and Design magazines each month.  So how DO you fit them into your design aesthetic of your home?  I took this challenge, and found some great ways to incorporate your dog's sleeping spaces, food bowls and storage into your home.
Let's start with the most important part of a dog's life – sleep.  Just like you have your own place in your home where you go for respite and comfort, dogs love their beds.  I know for a fact that my pup sleeps ALL day, so when it came to finding a bed, I made sure to find one that made her feel secure and comfortable.  Like my first post about pattern, dog beds can be a great way much like accent pillows or floor pillows, to add some color to a space: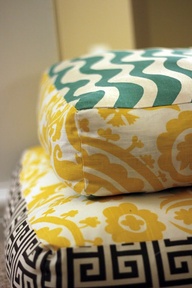 I love the combination of the Greek Key and the Wavy Chevron patterns with the yellow flowers.  These would add a punch of color to any space, and your pet would have a great place to call their own.
Another great alternative that I found during my research, is incorporating your pet's sleep space into the architecture of your home.  By doing this, you still create that safe and comfortable space for your dog or cat without taking away from your space: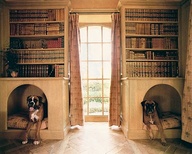 I really like how both of the beds in this image seem to disappear when combined with the display and book storage above.  Even if you end up making some changes, or if you decide to move, these bottom cubbies are still a great display space for that bobble head collection I know you're dying to break out from bubble wrap storage in your attic.
This next option below is a great solution that combines the idea of the hall tree from Vanessa's post last week, and provides storage for all of the loved ones in your family in one neat and organized space: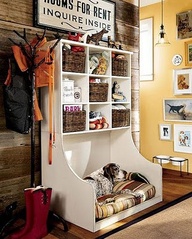 Now that your dog has gotten some much-needed sleep (probably totalling 10 or 12 hours in comparison to the 4 you got last night), it's time for some lunch.  Just like the infinite options we have for picking out our plates and dishes for our kitchens, there are a TON of solutions for your pet for each cuisine.  Let's take a look at a couple of these options below: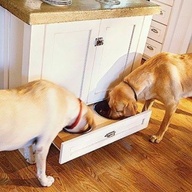 This first image is a great solution for concealing your pet's food bowls.  Simply pull the drawer out when it's time to chow down, and then just close the drawer if you are hosting a party or having family/friends over for a cleaner appearance.  If you don't have the option of creating a drawer at the bottom of the cabinet as this image shows, you can also install a pull out shelf in your existing cabinet, and all you have to do is open the doors, pull out the shelf, and your pet is ready for dinner.  This again keeps the dish and food off of the floor, and those beautiful hardwoods sparkling.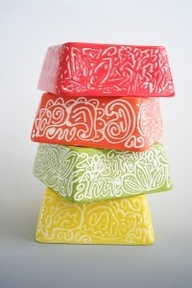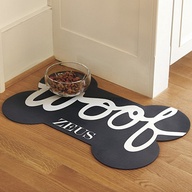 No dog could confuse where their food is with this super cute place mat showing your pet's name.  This glass bowl is a great combination with this place mat by disappearing and allowing the "woof" and the dog's name to take precedence.  A place mat is also a great idea because they are easily cleaned, and will keep your floors clean as well.
Storage is always an issue when it comes to your pet.  I know I have a ton of toys for my dog, and I don't always want the fake squirrels, ropes and tennis balls strewn all over my living room.  I did a little research, and found some great ideas for organizing and storing your dog's accessories including leashes, food and treats: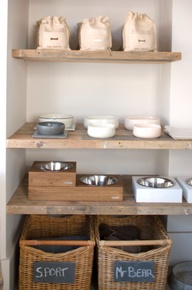 This first image shows distressed wood shelves with chalkboard wicker baskets which is a great way to store your pet's food and bowls.  notice the style of the bowls continues with this rustic theme, and don't even look like animal dishes.  You could seamlessly mix this with your everyday dishes and storage.  I also love how they have created storage for both pets and have labeled the baskets below with each name.
This second image is great for an example of organizing towels, leashes and grooming supplies for your pet.  The great thing about this option is that when it's bath time, all you have to do is grab the basket you need and you have all of your supplies at hand.  When bath time is over, all you have to do is place the basket back on the hook.  This less permanent option also allows you to switch out your storage in case you want to add more color, or one of your baskets gets eaten by your sweet little monster.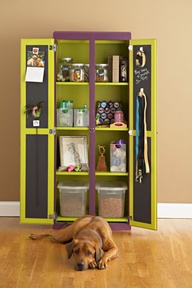 This third option is great for multiple reasons.  It first and foremost brings that pop of color into your space.  How great is the idea of finding an antique storage piece, and giving it a fresh coat of paint so that when the doors are closed all you see is color.  All of your supplies and toys are in one place, and this eliminates the need for multiple storage locations for your pet's food, toys and collars/leashes.
Pets are a wonderful addition to any family, whether you decide to provide a home for a dog, cat, bird or snake (eek!).  My options above focused mainly on dogs, but the same principles apply for any pet.  Whether you choose to display your pet's beds, food and toys, or decide to hide them away, there are lots of fun and simple options.
If you would like help with creating a cozy space for your best friend, contact us on our website at www.vrainteriors.com, or check our Pinterest page for more pet ideas!
Posted by Amy B.