While looking around my home today, I realized what I wouldn't give to have just a little more storage space to put away all of our family's stuff.  I have been a homeowner for 7 years and am amazed with how much my family has accumulated over those past years. Yes, a lot of it can be given away, but a majority of what we have, I don't think we are willing to let go of just yet (like those cute pre pregnancy outfits that I own that are two sizes too small 😉 ) I am sure that all of you are on the same page as me and are all wondering "where the heck am I going to put all of this stuff?" or "do I need to move into a bigger home to accommodate all that we have?" Rest assured, most likely than not, there is a solution to your storage needs. Inspired by Amy's post last week, "See Spot Run", I took it upon myself to look into different options of organizing your family's belongings, allowing your home to be clutter free and all of your valued items stored safely without being hard to find.
What I believe is the ideal solution is to consider installing built in shelving and cabinetry. Yes it is a little more expensive but like all investments that you put into your home, you will see that it pays off in the long run. One trend that I am seeing constantly is utilizing what you would think of as "dead space" to your advantage for storage. One of my favorite applications is using the vertical space under your stairwell for storage. Not only does this utilize the unused space that you never thought you could use, but it can add a visual interest to the space if executed properly.
Here are some great examples of instances where this application is used beautifully.  In the first photo, the shelving is open, allowing the homeowners to showcase and store some of their books and vases. In the latter, the homeowner went for a seamless clean look, allowing the cabinets and all of the clutter inside of them to disappear into the wall.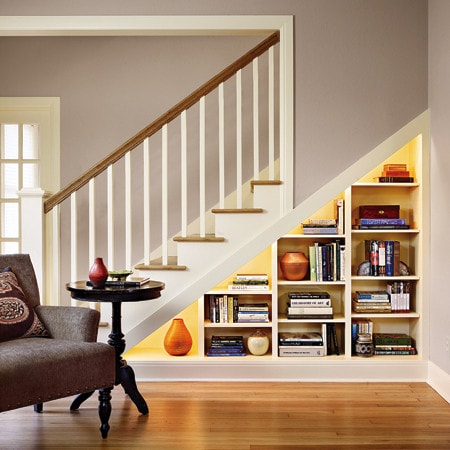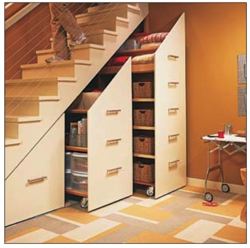 Another great look that you can have lots of fun with is to recess storage along a wall in a room. Not only does this free up your square footage, but it also gives the room a clean look that is clutter free. A great example of this application is below in a child's bedroom. It is very fun and even though it is a seamless look, it is very visually appealing with the different storage types: drawers, open shelving, and cabinets with glass and solid doors. I think this application would be ideal in small rooms where there isn't much room for freestanding storage pieces.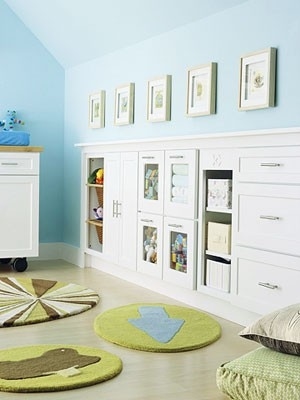 Another great application of a custom built in shelving recessed into the wall is below. With open shelving, you can showcase any memorabilia that you may have as well as store baskets and books.
The options of built-in storage are endless, and the key to success is having an open mind and really understanding how to use your space and all of the walls in between to their full potential. If you are interested in exploring the options of incorporating built in storage to your home and need some help, please contact us at our website https://www.vrainteriors.com, or check out our Facebook, Pinterest and Linked-in pages for great ideas.
Posted by Reem T.