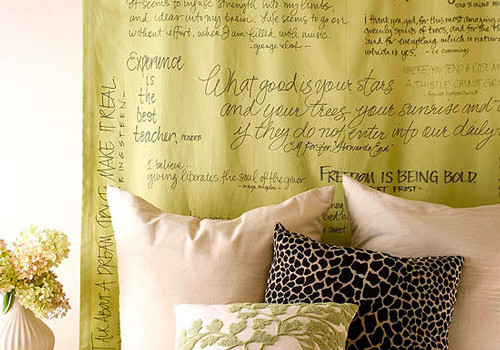 So, my sister decided to move to NYC a couple of months ago. She called me up after her move with a major space issue. As you all know, apartments are super small in the city and she had to leave a majority of her furniture behind. Her biggest issue was her bedroom area: All she had room for was a mattress with the box spring and rails. She had no room for a headboard or night stand and was needing some ideas on how to spruce the room up a little and add some shelf space to substitute for the end tables.  So, being the great and amazing sister that I am 😉 , this post is for you sis! Some great solutions that will make your small space livable and fun without putting a big hole in your wallet.
My  favorite "do it yourself" headboard idea is putting some sort of screen in place of the headboard. It can be a free standing screen like the picture to the left or it can be actual window shutters that can be mounted on the wall as in the photo to the left. This adds an architectural element to the space and you can have fun with painting the screens to add some color to the space.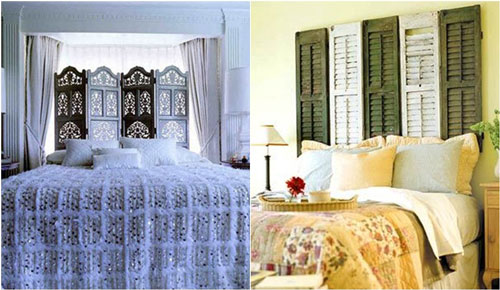 A popular headboard that is inexpensive and very easy to make yourself is the upholstered hanging headboard. You can have fun with different sized colored, patterned and textured fabrics to mount behind your bed.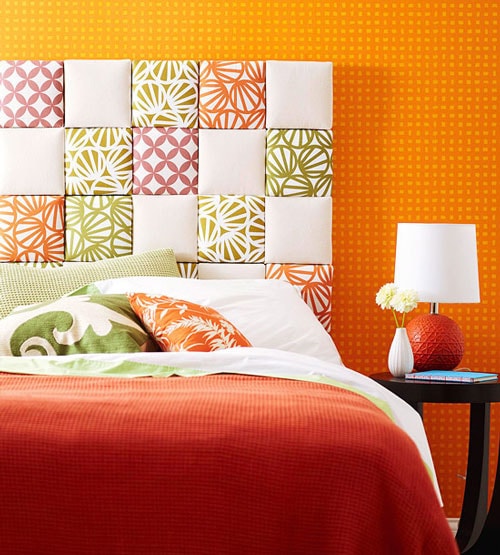 Here is a link as to how to create the upholstered hanging headboard:  http://www.youtube.com/watch?v=lSircVnX_uY#t=120
The idea below is very fun and unique. In this photo, the headboard is created by using the frame of an old window (windows were knocked out). In place of the windows, patterned fabrics were mounted on the back of the frame.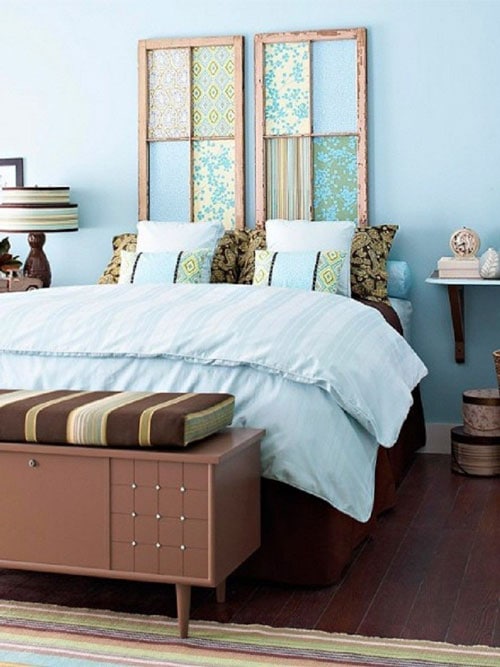 Reclaimed wood was used in the photos below. The wood really adds a lot of character and texture to the space. You can paint or design the wood however you like. In the first photo, the designer stenciled a pattern onto the wood.  Below that, the reclaimed wood is placed in a subway pattern and the colors of each plank are different, allowing it to be a unique, one of a kind piece.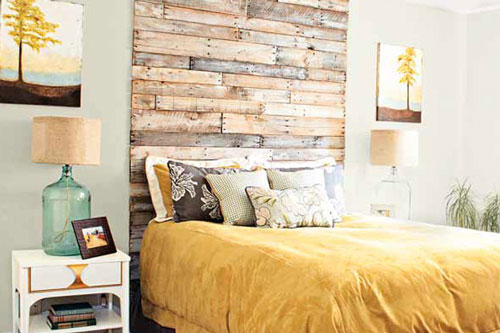 The photos below show applications where a fabric is hung/draped over a curtain rod. Again, you can have fun with the fabric pattern or even design your own on a solid fabric as in the 2nd photo below.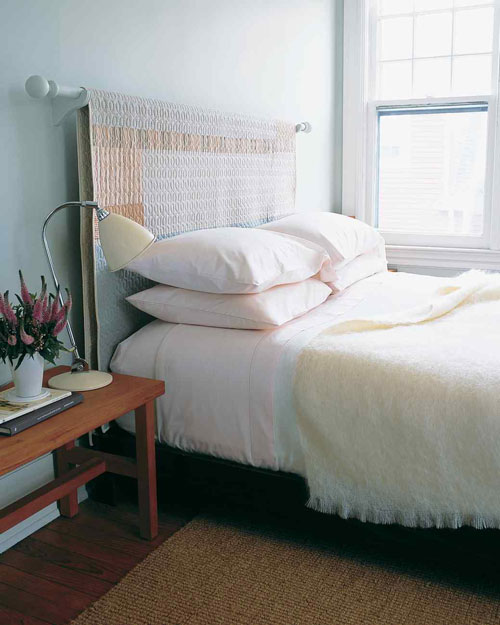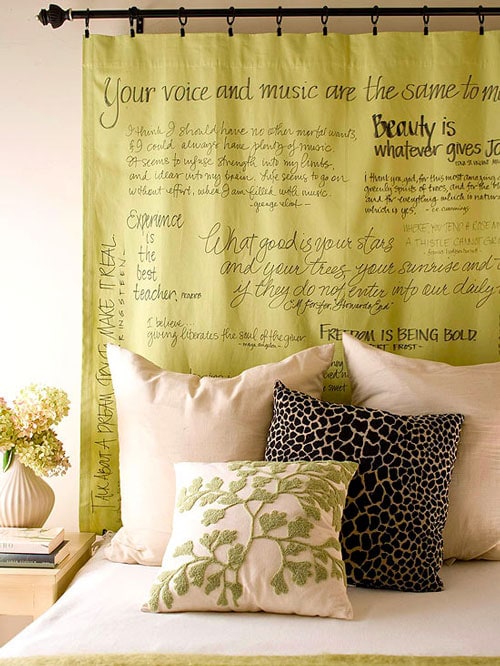 How about keeping it really easy and having high pillows leaning on the back wall and some fun artwork above? you really can't go wrong with this look!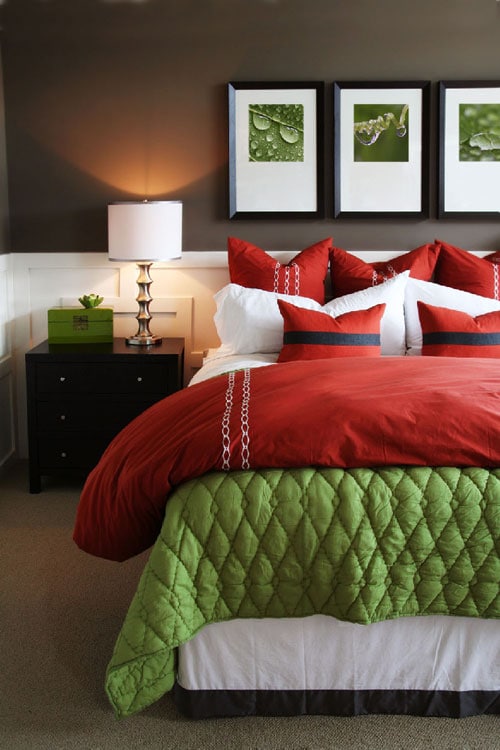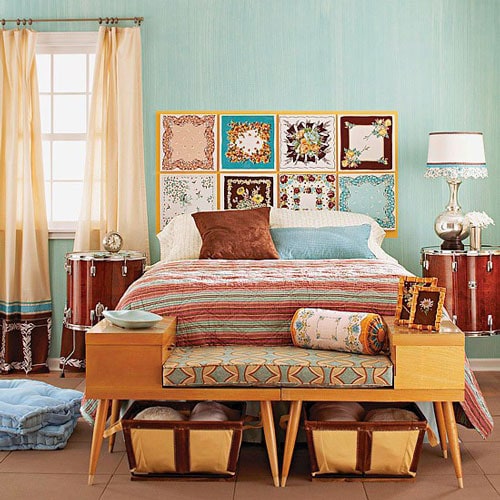 Last but not least, some great ideas for shelving to act as a headboard as well as storage.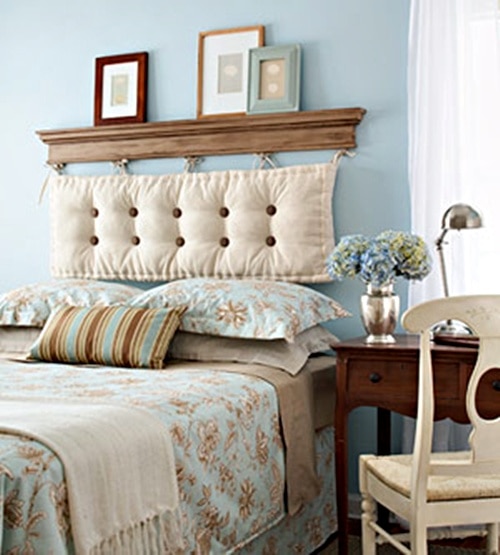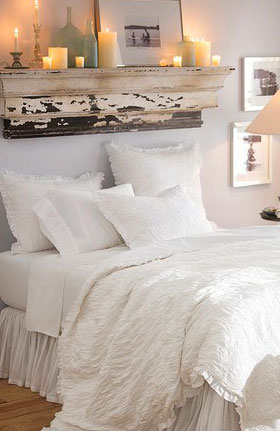 So, remember to think outside of the box and just have fun with this. It can be fun weekend project that can really add character to your bedroom. And if you need help coming up with a design, give us a call and we can help out!
Written by Reem T.